What is the most dog-friendly alarm system in Miami?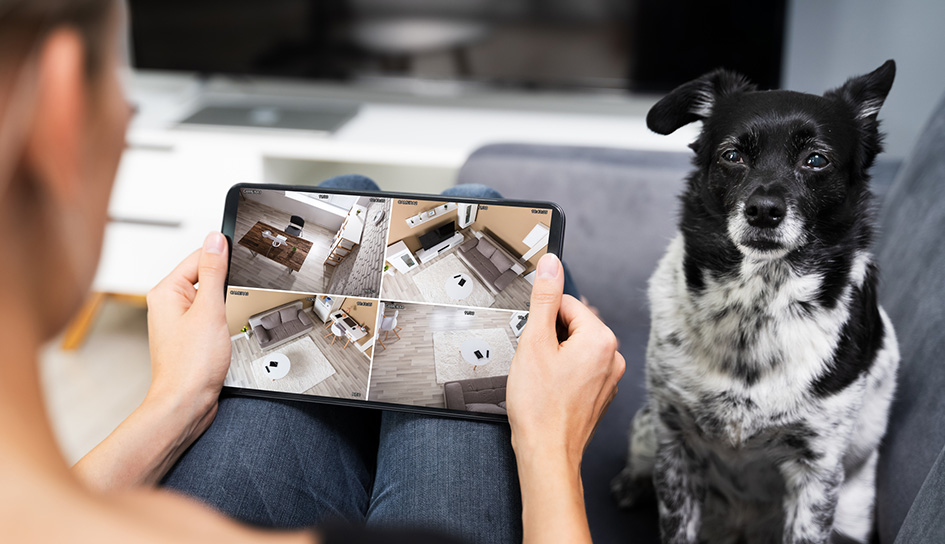 The loyal companionship and joy a dog brings to your house in Miami really makes them an integral part of your family. However, quite a few pets have been known to set off sensors on some home security systems. And it appears that the bigger your dog is, the more likely they could be the source of a false alarm. So don't you think it would be helpful if there was a dog-friendly alarm system in Miami?
A perfect fit for dog owners, Vivint smart homes provide a multitude of benefits. First of all, you can adjust the sensors to ignore locations where pets are most active. Second, make use of your indoor video cameras with HD night vision and motion sensing capacity to maintain a close watch of your furry housemates. Lastly, your dog-friendly alarm system ought to be easy to use so you may swiftly arm and disarm your property's security as required.
Adjust your sensors to allow for dogs
Modern motion, door, and window sensors are more capable of adapting to pets than previous devices. Smaller animals should have no problem avoiding an accidental triggering of the sensor, as the devices can adapt to them. Larger dogs and rambunctious animals will have an enhanced likelihood of false alarms, but there are ways you can reduce that likelihood with a few adjustments on the Vivint smartphone app.
Adjust the sensitivity levels of your motion detectors to low. You can also modify the range of the motion detector.
Position motion sensors away from frequented places, including a pet's preferred sleeping place or food dish.
Deactivate your alarms via your smartphone app when you're on your way home -- especially if your furry friend has a tendency to leap toward the door or window when you walk up the front steps.
Set a smart light to activate to calm an uneasy dog when it gets dark.
The capability of handling these modifications makes Vivint the best pet-friendly home security system in Miami.
Use your indoor security cameras to keep eyes on your dog
Indoor security cameras with 2-way talk are an easy method for owners to soothe their animals while working or traveling via your intuitive cell phone app. Your indoor cameras will even pick up your pet in low-light situations in full high definition, so you can catch a glimpse of what's going on throughout the house without even leaving your room. Whenever your video components notice unexpected motion, you can have a video snippet dispatched to your cell phone to ascertain if it's your animal or a burglar.
Uneasiness and distressed behavior is fairly normal for dogs and if that happens to be the case with yours, Vivint cameras can be beneficial to you. Whenever you see them begin to get uneasy, talk to them by using the two-way audio feature. They can notice your vocalization and realize that all is fine. Or, if you find that they are stressed during inclement weather, you might remotely activate a light to make things less alarming.
The most dog-friendly home security system in Miami is easy to manage
All of the dog-friendly controls are great, but they wouldn't mean all that much if they were a challenge to manage. The nice aspect about a smart home package like Vivint's is that all your controls are both on your centralized control panel and your smartphone app. Go ahead and arrange your devices around your way of life -- and don't forget your furry companions! All it requires is a few button taps and you have your whole home security set up and ready to go.
Customize your Vivint pet-friendly security system today!
Your home protection package shouldn't be a nightmare for your dogs. Rather, it should offer superior security while allowing you to create the best environment for your animal companions. Dial (786) 833-7988 or submit the following form today!
Areas Served Around Miami By Smart Security Specialists Your Local Vivint Authorized Dealer